Grow Food at Home with Tower Garden
Good health starts with good habits, like eating wholesome foods. Tower Garden systems let you easily grow your own fresh, nutrient-rich food without soil. The new Tower Garden HOME is ideal for indoor gardening, while the Tower Garden FLEX is slightly larger and can be used indoors or outdoors. Grow a healthier you year-round.
---
No Green Thumb? No Problem
Tower Garden makes it simple and easy to support your healthy lifestyle. Our vertical, aeroponic garden systems allow you to grow your own produce without the learning curve or time commitment of traditional gardening. Grow greens and herbs indoors with Tower Garden HOME, or enjoy a wide variety of fruits, vegetables, herbs and flowers with the Tower Garden FLEX. Each model takes up less than 3 square feet.
---
Grow the Healthier, Easier, Smarter Way
Why should you use Tower Garden rather than another growing method? Why not just plant a few seeds in the dirt? Why even garden at all when you can buy produce from the grocery store or farmer's market? The advantages of Tower Garden can be summarized in three words: healthier, easier, and smarter.
---
Everyone knows eating lots of fruits and vegetables is good for you, but keeping the refrigerator stocked can be both costly and inconvenient. Tower Garden allows you to affordably grow your own clean, living produce, so you can enjoy eating more of it, more often. In addition to that, Tower Garden harvests are more delicious and nutritious than grocery store produce. Most commercial produce is grown using herbicides and pesticides and shipped long distances. This results in weeks-old produce with diminished flavor and nutrients. When you grow your own, you can have produce the way nature intended — fresh, flavorful, nutritious and picked at the peak of ripeness.
The "Good" of Gardening Without the "Bad"
---
Like many of us, you may have tried gardening in the past with disappointing results. Luckily, Tower Garden is different. You don't need previous gardening experience. All you need to get your garden started is sunlight or grow lights, electricity, water, roughly 30 minutes a week and about three square feet. Tower Garden completely eliminates the need for digging, weeding, tilling, watering, kneeling and getting dirty, making it simply and easy for anyone to maintain. Tower Garden can fit almost anywhere, including patios, decks, porches, balconies, rooftops, living rooms, kitchens and more.  The Tower Garden comes with all the equipment you need, as well as a Set-Up and Growing Guide so you can start your adventure right away.
Reap a Respectful Return While Helping Our Planet
---
Growing a traditional soil garden is a costly investment. You may need to invest in compost, fertilizers, pest control solutions, irrigation systems and premium soil, as well as tools — gloves, shovels, hoses and more. While a Tower Garden is not an inexpensive choice, it can be seen as an investment in your health—one that will pay for itself quickly. an independent study found that a Tower Garden can grow food quickly enough to cover the expense of purchase in just six months, making Tower Garden a smart choice not just environmentally, but economically. In addition to that, traditional produce leaves a pretty big carbon footprint — one that you don't contribute to as much when you grow your own produce with Tower Garden.
Harness the Power of Aeroponics:
The Tower Garden Advantage
Using aeroponics—the same technology NASA uses—Tower Garden grows plants with only water and nutrients rather than dirt. Research has found aeroponic systems, when compared to traditional methods, grow plants three times faster and produce 30% greater yields on average. Tower Garden will arrive at your doorstep with seeds, nutrients, supplies—everything you need to get growing. That means you'll be enjoying abundant, nutritious harvests just weeks after planting, or even earlier if you start with our seedlings!
---
Grows plants up to three times faster
Uses as little as 2% of the water
---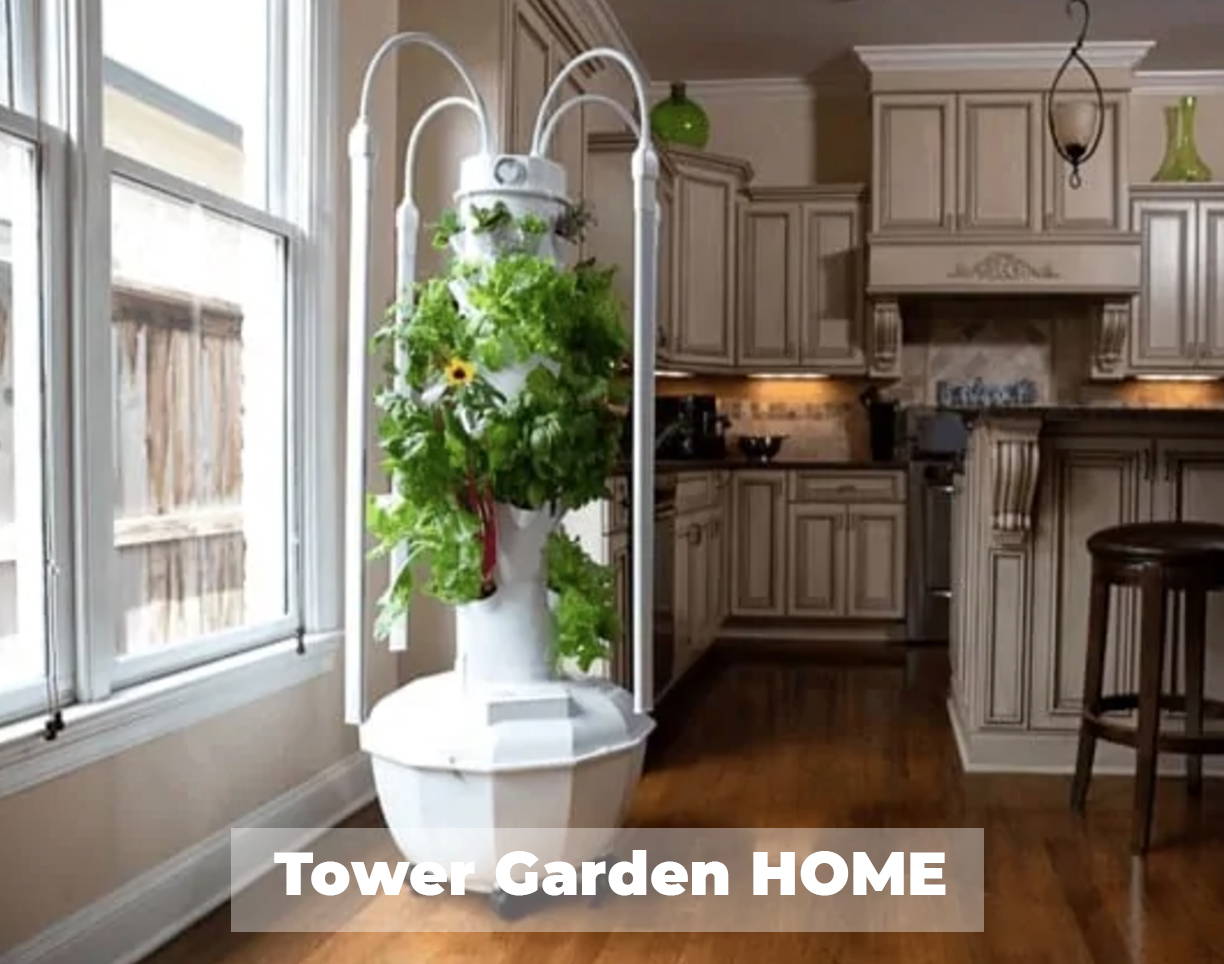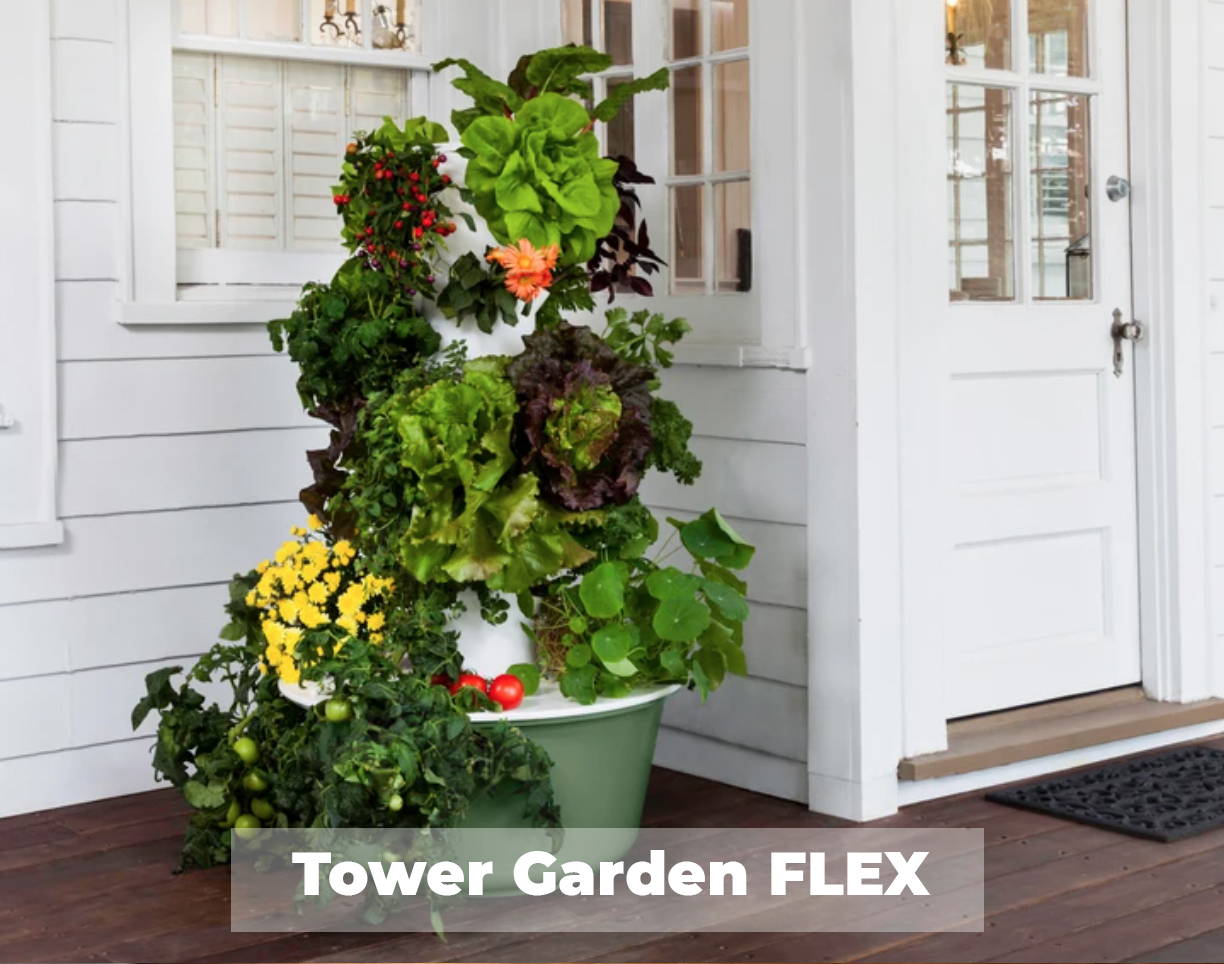 Tower Garden FLEX is ideal for customers who wish to grow large vegetables, fruits, and herbs without the time, space, and effort needed to upkeep a traditional garden. It thrives in areas that receive consistent sunlight. Tower Garden HOME is perfect for homeowners and urban dwellers who want to grow fresh greens and herbs year-round indoors. The LED grow lights eliminate the need for consistent sunlight, and the smart timer helps keep energy usage to a minimum. No matter which unit you choose, you'll be on your way to enjoying fresh, healthy produce in no time!
Explore Tower Garden HOME
Grow indoors. Grow greens and herbs. Includes everything you need to begin growing up to 32 plants now. Available from as low as $55.83 per month for 12 months!
- A variety of starter seeds.

- Seed starting supplies, including germination tray, rockwool cubes, vermiculite, net pots

- Babygreens extension kit

- Pump, timer, drain tube and water monitor

- Tower Garden Mineral Blend plant food (1 qt. each) and measuring cup

- pH test kit and one bottle each of pH up/down adjusters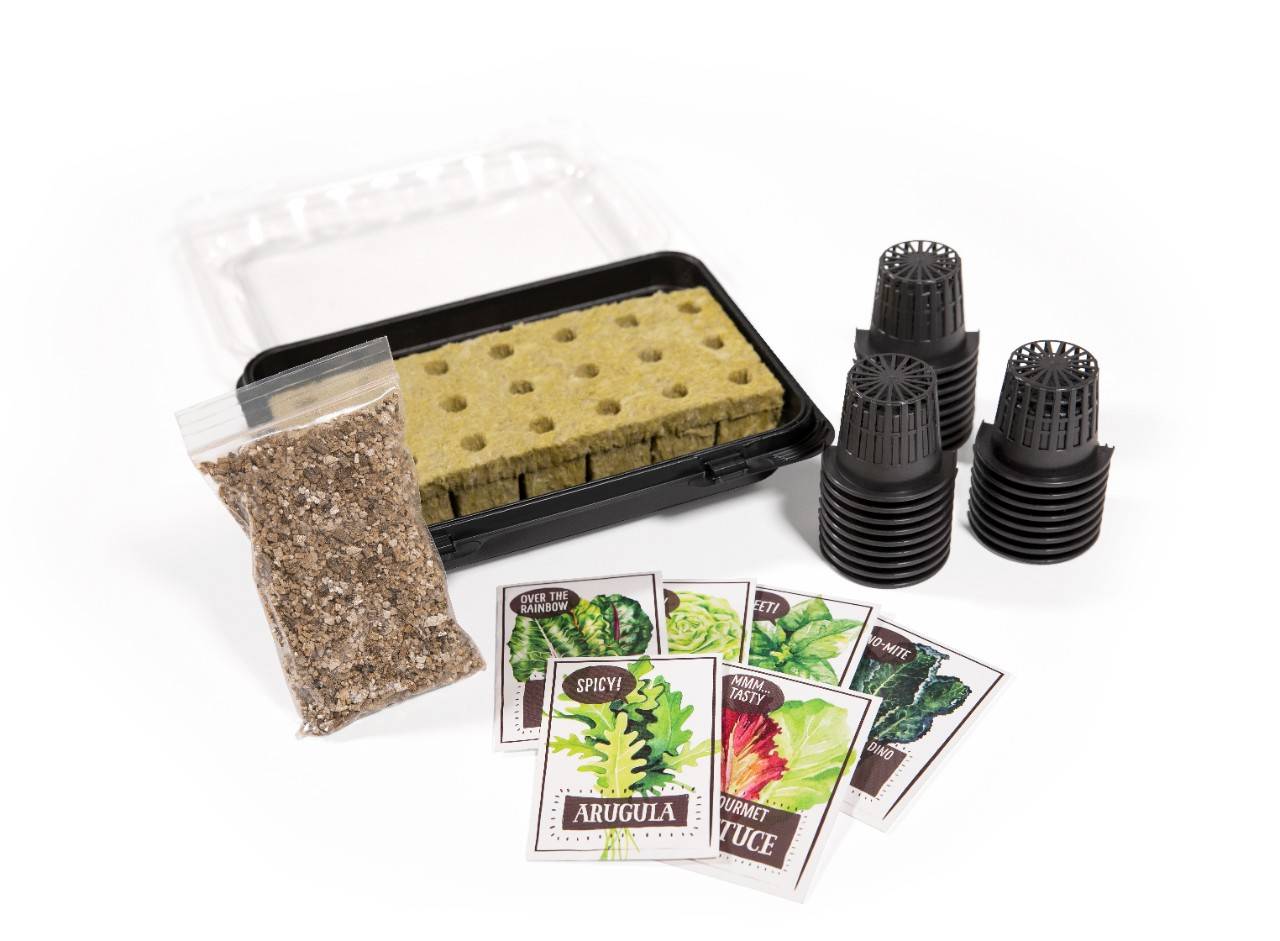 Explore Tower Garden FLEX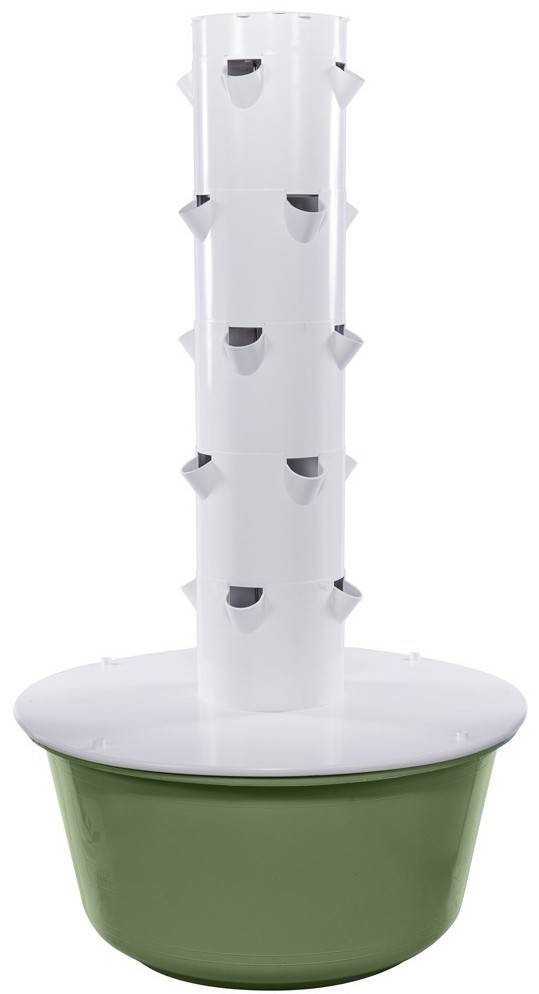 Grow indoor or outdoor. Grow vegetables, herbs, fruits and flowers. Includes everything you need to start growing up to 20 plants now. Available from as low as $51.67 per month for 12 months!
- A variety of starter seeds.

- Seed starting supplies, including germination tray, rockwool cubes, vermiculite, net pots

- Pump, timer, drain tube and water monitor

- Tower Garden Mineral Blend plant food (1 qt. each) and measuring cup

- pH test kit and one bottle each of pH up/down adjusters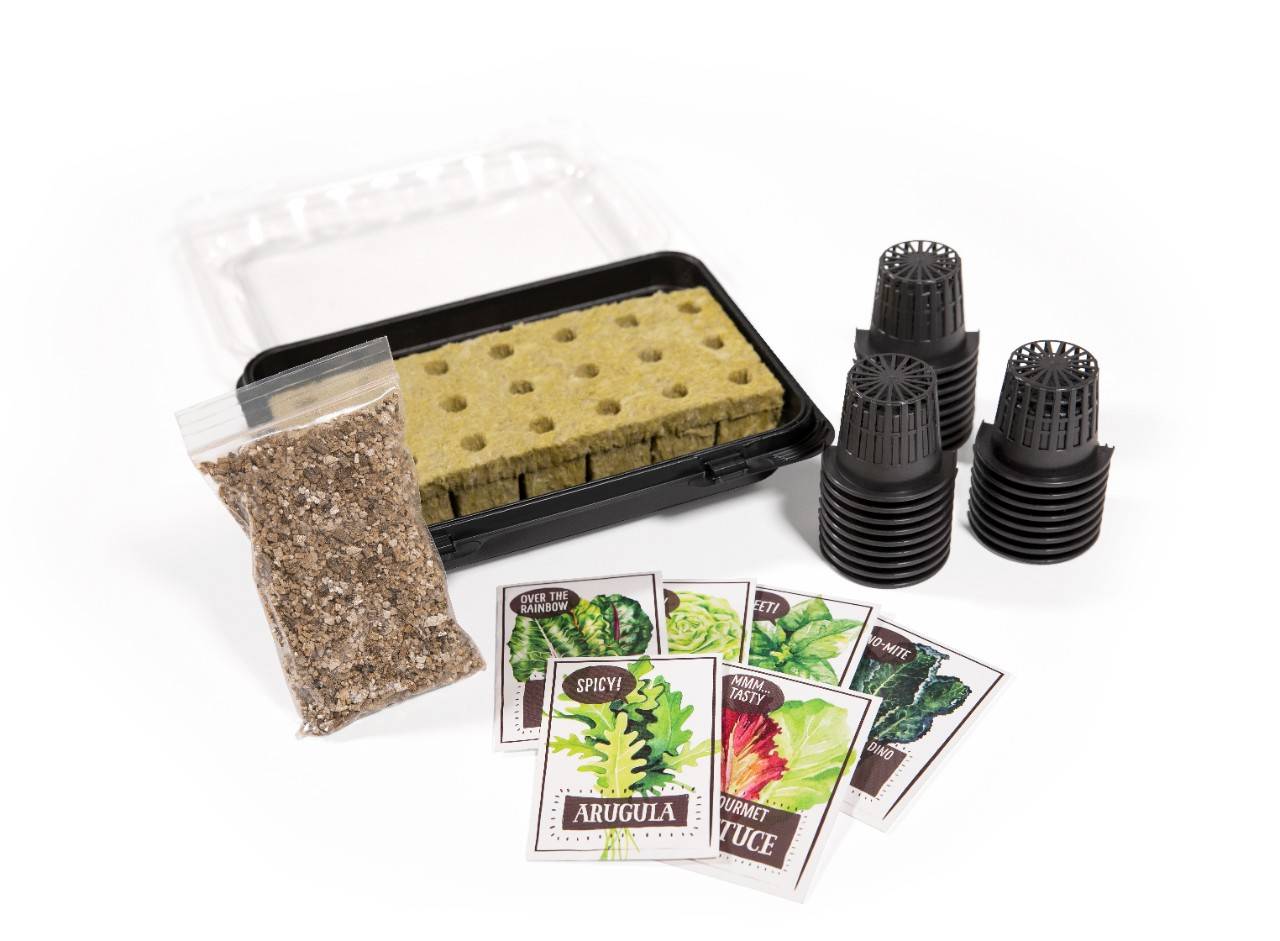 Live Well While Conserving Water and Space
---
Tower Garden has a vertical, compact design and closed-loop system technology, so it requires as little as 10% of the space and water you'd use with traditional growing. We've seen lots of Tower Gardens in lots of places all over the United States and beyond, but we continue to be amazed at some of the unique settings in which Tower Gardens sprout up. In a kitchen, in a classroom, on an island- as a vertical, aeroponic growing system, Tower Garden can grow almost anywhere.
Nutrient-Loaded Produce
without Loads of Work
---
Pests, disease, weeds—traditional gardening can be complicated and time-consuming. But because Tower Garden automatically delivers water and nutrients when they're most needed, you're able to grow strong, healthy plants with minimal effort. And healthy plants can better protect themselves from pests and diseases naturally, without pesticides. Plus, you don't have to deal with weeds (or getting dirty) because there's no soil.
"I have harvested [so] much lettuce and parsley that I donate to the meals-on-wheels program in town"
Jack
"We enjoyed cucumbers all season, giving away many to friends and neighbors"
Karl
"Our Tower Garden thrives—even in the brutal Texas summers! It is growing like crazy…and it's so easy to maintain."
Mary